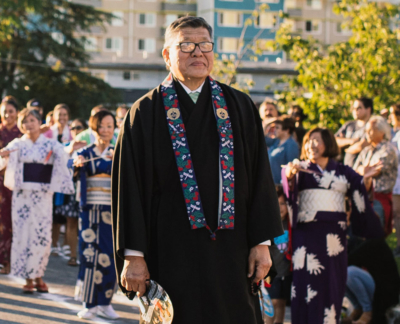 Rinban Sakamoto has been with San Jose Betsuin since 1986. He brings a high level of energy and focus on youth. As a former Eagle Boy Scout, Reverend Sakamoto is very supportive of and active in the Scouting programs at the Temple and at the national level of the BCA. Sakamoto Sensei is also the resident technology advocate and he incorporates many new tools in his work.
Rev. Mikame joined the ministerial staff of the San Jose Betsuin in August, 2019. She is originally from Oda, Shimane, Japan and has served in several temples in Chiba, Japan. She has an expertise in Buddhist liturgy and is interested in music and education. She is a popular speaker at temples in the US due to her refreshing insights as well as her clear explanation of Jodo Shinshu Buddhism.
Dennis Akizuki
Minister Assistant
Dennis Akizuki is a life-long member of the Betsuin and has been on the Board for over 20 years. He was the Board President from 2018-19. He has been the "Voice of the San Jose Obon" for over 20 years. He is particularly interested in making the Dharma easier to understand. Professionally, he retired as the the breaking news editor for the Bay Area News Groups at The Mercury News in 2022. Dennis is a graduate from UC Berkeley.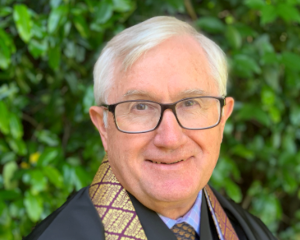 Michael Jones
Minister Assistant
Michael Jones has been a member of the San Jose Betsuin for over 30 years. He is a former Board Member and served for 3 years as Board President. Michael is also a former member of the Board of Trustees for the Institute of Buddhist Studies (IBS) and was on the BCA Endowment Foundation Board of Directors. Michael's education includes a MBA, and BS in Music. He is currently a student at IBS, working on his Certificate in Shin Buddhist Studies
Sumiye Tanabe
Minister Assistant
Sumiye (Sumi) has been a member of the Betsuin for 60 years. Board Member for 30 years and President 1993-94, 1997. She founded the Sangha Support Committee. She is a member of: Komon (Board Advisors), BWA, ABA, Betsuin Choir. She was a BCA Vice President for 3 terms and a long-time member of the BCA Endowment Foundation. Locally, she was the president of Fuji Tower Board and is the Co-President of the AAUW. She is a graduate of University of San Francisco.