San Jose Obon  | July 8th & 9th
The Obon festival season is an important time in our community and we are excited to be able to come together again!
This year's San Jose Obon Festival will be on July 8, 12 – 9 pm and July 9, 12 – 8 pm on 5th Street between Taylor and Jackson Streets in San Jose, CA with parking and a complimentary shuttle service from the Santa Clara County lot at North First and Hedding. (Google Map)
We will live stream segments of the weekend for people to watch. Please watch the "San Jose Obon" Facebook Live page for the livestream links.
For more information please go to our Obon Frequently-Asked-Questions page below.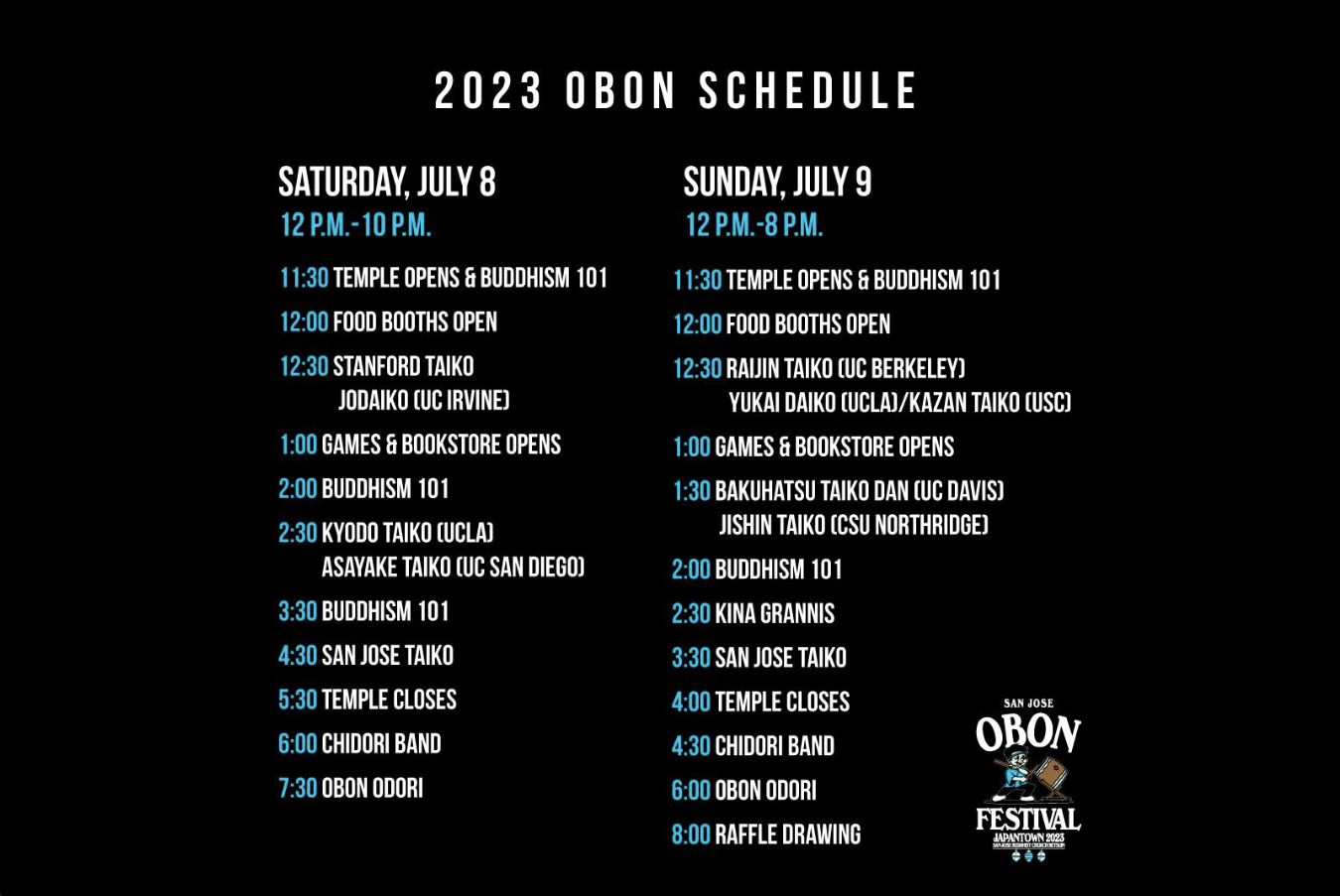 2023 Giving In Gratitude
Obon. The San Jose Buddhist Church Betsuin is excited to be celebrating Obon with our traditional community festival on July 8 and 9. This event brings the community together and reminds us of the connections we all share – our interdependence and the strength we embody – together.
Obon is a time to remember and honor those who have provided us with a strong and lasting foundation. And as we emerge from a historically challenging time, we acknowledge that much of our own courage, strength and compassion are rooted within our families, friends and loved ones. We celebrate our ancestors and our community.
Giving In Gratitude has become an important and sincere expression of our gratitude for our past and the Betsuin. We are grateful and recognize the significant role of the Betsuin and Sangha in our lives. In the spirit of Obon and with gratitude, we hope you find this way of giving both meaningful and valuable.
Let's celebrate Obon by remembering family and friends we have lost, mindful and grateful for how they continue to be a part of our lives.
Obon is more than dancing and eating. There are many traditional decorations and items that are associated with it. And many of them can be made as craft projects by kids of all ages. Here are some craft activities for Obon that come from the teachers at Lotus Preschool and the San Jose Buddhist Church Betsuin Dharma School (Sunday school) teachers.
Check out a couple crafts we have put together to create at home!
Coloring is soooooo soothing for kids of all ages! These coloring pages are by our resident mangaka-in-training, Hitomi Kohno. In these pages, she highlights the quintessential parts of the Obon Festival like the Taiko drumming, the yummy food and of course, the Obon Odori (dancing). So get your inner artist on and color in these pages! Then go to the Facebook site and post a pic with the "#SJobon" tag!
You may choose to download and print each one or print from the zip file of the entire collection.
In an in-person Obon Festival, we have a literal army of volunteers who help people put on their yukata.
In 2021 we asked our local expert, Megumi Riel, for her assistance in creating this video.
Megumi goes thru the basics as well as the finer pointers that could make that yukata fit perfectly!
More resources
2020 & 2021 Obon@Home Videos